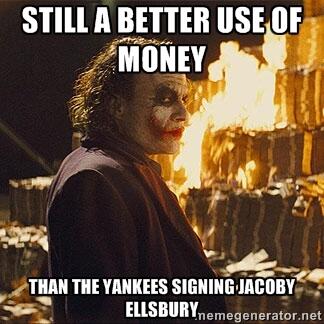 The New York Yankees made their second big heist of the offseason Tuesday, signing former Red Sox Jacoby Ellsbury to the third largest contract ever given to an outfielder. A grand total of $153 million for seven years, with an option for an eighth year that will push the value of the deal to $169 million.
This deal came at a total shock, as the Yankees finalized the $85 million deal for Brian McCann hours before signing Ellsbury, and only days prior met with Robinson Cano, who lowered his demands but is still millions apart from the Yankees' offer. This deal just makes New York's winter even more complicated.
I really just don't get the deal, and for more than a few reasons. The Yankees had plenty of priorities this offseason, and getting a high-priced upgrade to the OF was not one of them. They've now spent over a quarter of a billion dollars to fill two spots in the lineup, and there's still plenty more holes to fill with a possible self-imposed $189 million cap to worry about thanks to the luxury tax.
For one, they could have upgraded the outfield with cheaper alternatives to Ellsbury. As much as I didn't want Carlos Beltran (he's 37 and wants three years), the impact of a deal for him wouldn't be as bad. Shin-Soo Choo does a lot of things Ellsbury does: steals bases, has more pop, plays CF (although poorly). Heck, even somebody like Corey Hart would be a good no-risk, high reward pickup.
I was afraid of Ellsbury getting a large contract, and my fears are officially realized. Now, Ellsbury is a terrific player. When healthy, he's one of the top players in the game. He was the runner-up to Justin Verlander for MVP in 2011 and has led the league in stolen bases three times, stealing over 50 bases in each season with amazing efficiency. However, he has a long history of injuries with Boston. A history of speedsters versus the age curve is mixed, some guys playing for a long time like Rickey Henderson, others, like Carl Crawford, not so much. The only way for this deal to make sense is if there is more spending to come.
The Yankees still have other holes to fill right now. They still have to sign Robinson Cano and fill up the giant void in the rotation and the bullpen. Cano recently met with the Seattle Mariners, who seem to be hell bent on outbidding the Yankees for the superstar second baseman. Now, the Yankees don't want to go above $180 million, so the fact that they paid Ellsbury, who isn't even close to Cano's level, over $150 million is just silly. They need Cano, and Cano needs them. If the Yankees want to compete next year, they have to blow past the $189M cap and pay Cano. He's the heart of the franchise.
Probably the biggest hole the Yankees have right now is the giant void in the rotation. Currently, it's just composed of CC Sabathia, who had his worst season in the bigs this year, and Ivan Nova, who has been inconsistent in his MLB career, but was brilliant in 2013. From that 2013 rotation, Andy Pettitte and Phil Hughes are gone, but Hiroki Kuroda could possibly be on the way back. Which leaves two open spots. You could fill one with Michael Pineda or David Phelps, but that's only if they are healthy. That's still a major question mark.
They could fill the rest of the void in the pitching staff through free agency. Matt Garza and Ubaldo Jimenez are the best guys left, but they're a risk that could boil over into a John Lackey/AJ Burnett situation.
Then there's the latest Japanese star, Masahiro Tanaka. Just yesterday, MLB and Nippon Professional Baseball agreed to a deal to change the posting system which includes a maximum bidding cap. This would basically allow any posted player to negotiate with any team he wishes; previously the highest bidder had exclusive negotiating rights.
Of course, all of this may not mean a thing if the Yankees decide to buck the $189M cap altogether, and it would help them if A-Rod is suspended for the entire season, freeing up over $25 million. They could still end up signing Cano and putting together a very solid rotation (with high risk), thus making them serious contenders again and a threat to Boston's crown.
Just imagine a lineup like this:
CF Jacoby Ellsbury
DH Derek Jeter
2B Robinson Cano
1B Mark Teixeira
RF Alfonso Soriano
C Brian McCann
LF Brett Gardner
3B Kelly Johnson
SS Brendan Ryan
And a rotation of this:
LHP CC Sabathia
RHP Hiroki Kuroda
RHP Masahiro Tanaka/Matt Garza
RHP Ivan Nova
RHP Michael Pineda/David Phelps
That's pretty good, right? One of the best lineups in all of baseball, potentially. That rotation could also be very good. Only problem is, everything has to go right. No more injuries. People like Sabathia and Jeter have to rebound this year. In 2014, the Yankees could potentially be a championship team, or a total disaster and financial white elephant.