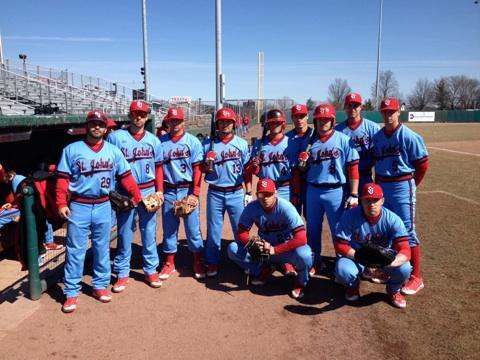 A bad start to the season may leave some teams dejected, but not the St. John's baseball team. After a 3-10 road trip to open the season in February and March, the Red Storm has won 27 of their last 32 games, including 19 of 21 at home at Jack Kaiser Stadium. They currently sit in first place in the Big East conference going into the final two weeks of the regular season.
St. John's struggled in 2013 just one year after a Big East championship and a finish two wins shy of the College World Series, but the team has stormed back and are in a serious pennant race once again. They've also managed to achieve rank No. 23 in the whole country.
Underclassmen players have played a big hand with the resurgence of St. John's baseball this season. In particular, the Red Storm have three freshman in the every day lineup, and all three have played very well when called upon.
"We're winning a lot, I'm just trying to help the team win," said freshmen outfielder Michael Donadio. "I just try to play hard, come out here and hit the ball hard, try to make all the plays that I can, just help the team win. That's pretty much my goal."
Donadio has been the Red Storm's starting left fielder since day one, and he has responded in a big way. The Long Island native is currently batting .305 with a .906 OPS and 37 runs batted in. 14 of his 55 hits on the season have gone for extra bases. He ranks near the top among Big East freshmen in most categories.
"Mike's been in there since day one as a starter and he earned that opportunity in the fall," his coach Ed Blankmeyer said. "He's been pretty consistent all year."
The Red Storm have been able to solidify the third base position with a freshman as well. Robbie Knightes leads the team with a .363 batting average and has 21 RBI and a .438 on-base percentage.
"I'm a swinger," Knightes said, "so I'm up there looking to swing, so I'm going to do that. On the field, same thing, just going after balls and try my best, you know."
Up-state New York native Knightes earned his opportunity to become the team's full-time third baseman, according to Blankmeyer.
"My goal is definitely to try to get on the field, work as hard as I can, to do anything I can, to help the team win," Knightes said. "I think I've done pretty good so far, so just stick with it and being myself."
"Robbie's gotten his chance," Blankmeyer said. "One third of the way into the season he's solidified himself at third base. All of the sudden we popped him in and he was ready and he took advantage of the opportunity."
Freshman catcher Troy Dixon's skills at the plate have helped him get regular at-bats as both the team's backup to catcher Tyler Sanchez and as the designated hitter.
"When I get in there and get my chance," Dixon said, "I just take advantage of it and help the team win."
Dixon has put up a .418 OBP in 72 at-bats this season and has been solid as the team's backup catcher. He hasn't committed an error all season behind the plate and has thrown out five of 14 potential base-stealers.
"He's the two catcher and he's also the DH and he's gotten a lot of at-bats," Blankmeyer said. "All three guys as freshmen have gotten a considerable amount of playing time and they've contributed to our success."
Like the rest of the team, it was a slow start for all three players. Although Donadio has started almost every game all season, Knightes and Dixon have had to fight for playing time and regular at-bats.
"Once you play what we call 'preseason baseball', we play against very good competition, it kind of seizes the kids. So I like to call it two seasons in one, it's the pre-conference schedule where we travel down south and play some good competition, and then we play our conference schedule. I think it kind of prepares them for that, so they adapt pretty good. Plus in Florida baseball, we train them pretty good. They become sophomores pretty fast."
St. John's has an advantage over a lot of teams in the country not only with the youth they have on the roster, but also with the fit they have on the team. Dixon, Donadio, and Knightes are all left-handed batters, and that helps balance the lineup out in terms of right-handed batters and left-handed batters.
"The one thing that we wanted to do is get some left-handed batting in our lineup so that we could neutralize righties," Blankmeyer said. "Having three freshman hitters that bat left-handed is nice to bring in, and they're all contributing."
Donadio, Dixon, and Knightes will all be important for the program's immediate future as well as next year. St. John's is currently tied for second place in the conference just one year after Blankmeyer's first losing season as the Red Storm's head coach.
"Just keep it rolling," Donadio said. "One pitch at a time, just do whatever I can to help the team win. Just keep having fun and just like that."
St. John's looks like a bright future is on the way with a sharp core of players led by this trio of freshmen.
"We work their asses off," Blankmeyer said. "They work at it, they train all year round, and they understand what they need to do to be pretty successful and to maintain. This game of baseball, it's a highly skilled sport and you got to keep working at your game, like anything else. And when you get opportunities to play, you've got to perform.
All three players look as if they have their roles locked down, but they look to improve their game every single day the rest of the way and for next season.
"Just keep getting better," Dixon said. "Keep battling for a job. I'll come back next fall bigger, better, and stronger and keep improving my game."
All the better for the team, for both their immediate future and for the distant future.